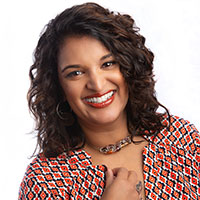 Tina Varughese, Professional Speaker
Named one of Canada's Top 10 Notable Speakers by Ignite Magazine, Tina cleverly tackles hot button topics, like diversity and inclusion, in today's racially complex climate. Audiences describe Tina as "dynamic, highly energetic, relevant and hilarious". By carefully weaving personal stories with touching humour, her interactive and highly entertaining approach disarms attendees as she breaks down barriers while building bridges of understanding, awareness and compassion. Attendees are inspired to think, behave, act and communicate with positive intention and purpose.
Tina's work has been featured in the Toronto Star, TSN, CBC Eyeopener, Adrenaline Magazine, Alberta Venture Magazine and U of S Alumni Magazine. She is the President of the Canadian Association of Professional Speakers (Calgary). Tina has recently been named to McMaster University's Advisory Council for the Canada Project. Tina has been the face of diversity, literally, when she was chosen to be in Dove's Campaign for Real Beauty representing beauty in diversity. Tina resides in Calgary, AB with her husband and two children.
What is Unconscious Bias? Making a First Impression in Seven Seconds or Less
We all make quick assessments of others without even realizing it. We are not born with bias. Biases are formed by past situations, experiences, background and culture. Unconscious biases typically exist towards gender, race, religion, sexual orientation, age, disability (both physical and mental), and weight. Most of us will say "I see people for who they are" but do we? Recognizing, managing and mitigating unconscious bias promotes diversity and inclusion. Diversity and inclusion drives innovation, increases productivity, and stimulates creativity while promoting a healthy, happy, engaging culture. Diversity is who's on the team; Inclusion is who gets to play.
This is a customized, virtual, interactive, highly engaging, relevant and often humorous keynote where attendees will participate in live polling, group chats, slide shares, practical activities and Q and A to promote social inclusivity, engagement and unity.