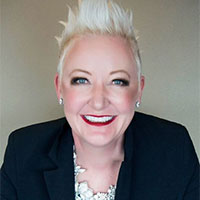 Sheila Musgrove
Working ON your staffing business, while also working IN it! A Panel Presentation
Sheila is the founder & CEO of Calgary based staffing & recruitment firm, TAG Recruitment Group Inc., and currently serves on the ACSESS National Board.
Sheila has received numerous awards including the Alberta Venture list of Alberta's fastest growing companies on which TAG has appeared 6 times; and has been listed on Chatelaine's ranking of Canada's Top 100 Female Entrepreneurs 4 times.
Her first book, "Hired! How to Get The Zippy Gig. Insider Secrets from A Top Recruiter." hit the Amazon Best-Seller lists in both Canada & USA within the first 24 hours of being released. Five years since its release, "Hired!" is still a top-ranked resume book. Her second book, "Unexpected Mentors. Weird & Creative Ideas To Boost Your Career.", was published in April, 2019. Sheila received the "Global Influencer" award from the Universal Women's Network for the global reach of her books.
As a speaker and trainer, Sheila has delivered the "Hired" & "Unexpected Mentors" keynotes to audiences throughout Canada and the USA, and has offered webinars for job seekers to help those affected by the downturn, as well as those with job losses resulting from the pandemic drawing attendance from countries around the world. Sheila's regularly interviewed as a resume and job-search expert on both television and radio.