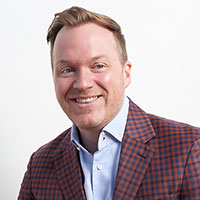 Jeremy Miller
Simple Clarity: How to Sell Your Brand in 10 Words or Less
Jeremy is a globally recognized branding expert, and the bestselling author of Sticky Branding and Brand New Name. His blend of humor, stories, and actionable ideas will inspire you to innovate and grow your business and brand.
Jeremy can tell you in vivid detail what every recession, starting with the 1989 market crash, is like. He has learned through real, boots-on-the-ground experience in the staffing industry.
After watching his family's business nearly hit rock bottom following the recession of the early 2000's, Jeremy was forced to take a hard look at the way the company was run and at their industry as a whole. He realized it wasn't his salespeople or marketing processes that were failing, it was the brand: their customers couldn't distinguish them from anyone else. This insight caused him to rethink, reposition, and rebrand the business. The strategy worked, and within a year the company turned the corner and rocketed into growth mode.

During the 2008 recession, LEAPJob (Jeremy's family business) did not have any slippage in sales. They did that with a rapid process to identify new markets, replace old revenue streams, and increase revenue (even while the rest of the industry was cratering). In 2013 Jeremy sold his family's business to focus exclusively on what he does today: build brands.
It was this experience that compelled Jeremy to embark on a decade-long study of how companies grow recognizable, memorable brands. After the pandemic, Jeremy and the Sticky Branding team have focused all their attention on helping companies find and replace the customers and revenue taken by Covid-19, and how to slingshot out of the crisis stronger than ever.